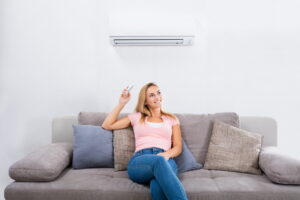 The climate around here has been pleasant and mild. It has been great for picnics and small get-togethers. This doesn't mean we shouldn't be preparing for the cooler weather soon to come. You've likely already noticed that things are getting pretty chilly at night. This isn't a problem if you have a reliable heater though.
We are here today to talk to those of you that don't have a good whole-house heating system. If you've been getting by with portable heaters or a heating system that barely works, we want to talk to you about a system that could greatly benefit your comfort: a heat pump.
What is a Heat Pump?
If you haven't heard about heat pump mini-split system, we are happy to provide you with some new information about this great comfort system.
Heat pumps are known as mini-splits because they are a type of "split" system, meaning they have an outdoor unit and indoor unit that work together to provide you with the comfort you need. In the case of a heat pump, that indoor unit is replaced by air handlers that are placed throughout your home.
Heat pumps still use refrigerant to produce comfortable temperatures for your home but with a twist–it can reverse the flow of refrigerant to offer you both heating and cooling.
3 Great Perks of Heat Pumps
Heat pumps are a great option for year-round comfort. We know we are discussing heating for the moment but these are great systems for your cooling needs too. Here are some of the best perks about scheduling an installation of a heat pump for your home's comfort system:
Year-round comfort: Because a heat pump has the ability to reverse the flow of refrigerant, it can offer both heating and cooling comfort to your home. This means, if you have an AC unit on its last leg along with a poorly functioning heater, a heat pump can be a great solution for replacing both systems.
Great energy efficiency: Heat pumps are great for anyone looking to reduce their energy use. It can run one air handler at a time and has the ability to use as little energy as possible even when the entire system is running at once. This means you can enjoy lower monthly bills and the peace of mind that comes with knowing your system is less stressful on the environment.
Ducted or ductless options: Did you already have a heater that uses ductwork? Or maybe you've been using a space heater because you don't have any ductwork in the home and can't accommodate any. Whichever case you are dealing with, a heat pump can be a great solution since you can choose a ductless system or a ducted one.
Whether you are looking to add a heat pump or replace an aging furnace, heating installations in Elbert County, GA should always be performed by a professional. If you need a professional technician to ensure you can keep warm this winter, you can turn to us.
Every member of our team works hard to ensure customer satisfaction with custom comfort solutions. Contact JN Electrical Temperature Control, Inc to schedule an appointment. Feel the Difference.