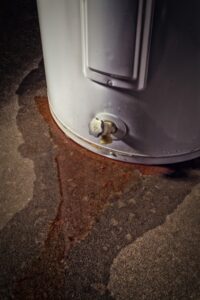 Your water heater is one of those systems whose importance you may not think about until it stops working. After all, without a water heater you don't have access to any hot water. The key thing here is that you want to make sure that you address anything wrong with your water heater before this system gives out.
So, maybe you are now asking yourself this question: "What are the signs of a water heater in need of repairs?" Thankfully we can do more than just answer your questions about water heaters in Lavonia, GA, we can provide the services that keep them in reliable working order.
3 Signs Your Water Heater May Be Having Problems
Over time, your water heater may encounter its fair share of trouble. This isn't a sign that there is a problem with the system itself, it just means that wear and tear are taking their toll on your water heater. Here are some of the potential warning signs that you should know about that will alert you to issues with your system.
1. Strange Noises
If you haven't taken the time to go out to listen to your water heater while it runs, we don't blame you. Not many people do. However, if you noticed that you are having trouble with your water heater, it may be time to give your water heater a listen. Keep your ears peeled for sounds like rumbling, cracking, or bubbling noises. These are all indicators of sedimentary build-up in the tank of your water heater.
2. Unreliable Warm Water
When you turn on a hot water tap in your home, do you only get warm water for a few minutes? Or maybe the temperature of the water fluctuates wildly while you are running the hot water tap? In either case, these are signs that something is wrong with the process of heating water in your system. Whether there is an issue with your electrical connection, a disconnect of the natural gas line, or another issue, the sooner the problem is identified and fixed, the better it will be.
3. Issues With Water Pressure
Maybe temperature isn't the main issue that you notice when you request hot water in your home. Maybe you are getting warm water but the water pressure is barely anything more than a trickle. If this is the situation, it may mean you have a leak in one of the connections from your water heater. It could also mean that there is build-up in your system's lines that needs to be cleared out.
These are just some of the signs that your water heater may be in trouble. If you notice these or any other warning signs coming from your system, make sure that you reach out to a professional plumber to get the problem fixed.
Feel The Difference in your home comfort when you work with our team. Contact the professionals at JN Electrical Temperature Control, Inc to schedule the services you need. We work hard to ensure the customer's satisfaction.