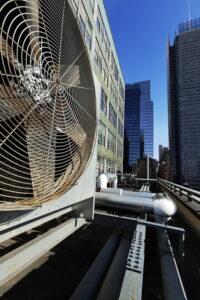 Running a business or office is no small task. You have a lot to handle and you have to make sure that your space is comfortable, especially if you have employees or customers that are going to be in that space for any amount of time. In fact, the law requires it in many situations.
When something goes wrong with your commercial systems then, it makes sense that you'd want to fix the issue right away. However, we do ask that you put away the wrench! Any kind of repairs or maintenance for any commercial HVAC in Hart County, GA should be handled by a professional. Why? Let us explain below.
The Advantages of Commercial HVAC Services
When you have a professional technician perform your commercial HVAC services, it is going to benefit you, your employees, and your business in the long run. Let's look at some reasons why:
Legality
First and foremost there are aspects of your HVAC system that you shouldn't handle without the correct licensure and certification. Doing so can actually go against safety codes and increase the chances of legal trouble. Book with a professional to keep things safe, up to code, and legal.
Expertise
We know there are plenty of tutorials online these days but none of them will come close to providing you with the same expertise that a trained technician has. Each member of our team has years of expertise and training behind them, along with the certification to prove it. When you work with a pro, their expertise works in your favor and significantly reduces the risk of mistakes.
Time and Effectiveness
You don't want to spend time and money going back and forth to a hardware store for supplies. You also don't need to waste hours trying to find the right tutorial and then still run the risk of not being able to repair your system anyway. Working with a professional means that your HVAC system issue is diagnosed and fixed correctly in a short amount of time.
Peace of Mind
Last but certainly not least, when you work with a professional to keep your commercial HVAC system running, it will help your peace of mind. Your technician knows what they are doing. Your technician is insured so you are protected even if a problem occurs. Your technician knows how to work on your system because they've done it before and know how to keep things up to code. All of this comes together to keep you and your interests protected along with keeping your commercial space comfortable.
Whether you run a restaurant, retail space, office, or yoga studio, you need to rely on your commercial HVAC system. When you come to our team for your commercial air conditioning, heating, and even indoor air quality services, you can rest assured that the job will be done right the first time.
Feel The Difference. Book your commercial HVAC system services with JN Electrical Temperature Control, Inc today to enjoy great work from true industry experts.