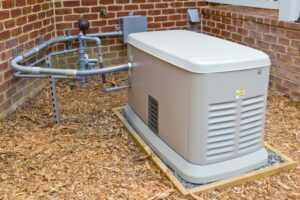 The sky is overcast and the wind is blowing hard. In most cases, a lot of homeowners would be worried about a power outage. But not you. Why? Because you have a whole-house generator. Your generator is going to have your back in the worst of storms and is going to help keep the lights on no matter what.
If you don't already have a whole-house generator we would love to tell you more about the reasons why these are great investments for any home. As you can probably tell from the scenario described above they're going to bring great peace of mind when you need it the most. So let us take a moment to give you some information on three key reasons to adore whole house generators
3 Things to Love About Whole-House Generators
So why invest in a whole-house generator rather than a portable one? Whole-house generators simply offer the most benefits for your home's power needs. Here are three great reasons to invest in a whole-house system to keep your home running even when the power goes out.
Power for the whole house: Portable generators are often only capable of powering a certain portion of the house. With a whole-house generator, you never have to choose between keeping the lights on and keeping your home comfortable. Whole house generators have the ability to keep your home operating almost as normal for days or even weeks on end.
Eco-friendly power generation: Think about the last time you had to boot up a portable generator. You had to make sure you found gas and had an appropriate place to put it so the fumes wouldn't poison everyone in the house. This is never a problem you will have with the whole-house generator. Whole-house generators use natural gas to create power for the home which is ecofriendly and incredibly efficient.
Automatic response during a power outage: Whole-house generators are connected to your home's electrical system. This gives them a unique advantage in that they can sense when there is an interruption in the flow of electricity to your home. They respond automatically by turning on and making up for that lost power. With the whole house system, you never have to worry about getting your generator up and running, it simply does it on its own.
As you can see, whole-house generators are a great investment for your home today and down the road. You never want to be caught off-guard when the lights go out in your home or your neighborhood as a whole.
If you are interested in adding a whole-house generator to your home, you will need the services provided by a professional. Only a trained electrician in Danielsville, GA can perform an installation of a system like this. For a quality job and quality products reach out to an at JN Electrical Temperature Control, Inc. We work hard to keep your experience with us hassle-free from start to finish.
Feel The Difference: Contact us today for service you can trust.