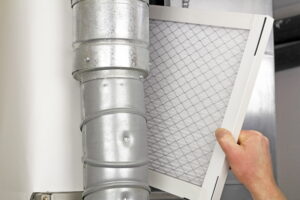 The filter in your heater (and your air conditioner) is meant to protect the internal components of those systems. While it doesn't harm your indoor air quality, you should also know that improving the quality of the air you breathe isn't its main purpose.
All that said, your air filter is highly important to your home comfort. Without it, your HVAC systems would likely run into even bigger problems on a more frequent basis. Let's dive into how your air filter can protect your home comfort system and help minimize some of the needs for heating repair in Danielsville, GA, along with providing other benefits too.
Your Air Filter Protects Your HVAC Systems' Internal Components
If you've had maintenance done on one or more of your home comfort systems, then you know that one of the biggest tasks that your technician accomplishes is to clean out the interior of your system. This means clearing away built-up dust and other debris that has collected in the nooks and crannies. We do this because that dust can cause trouble over time and lead to more repairs.
An air filter is like our ally in the fact that it helps keep the dust build-up to a minimum. Filters capture and remove a majority of the debris that would otherwise wreak havoc in your heater and your air conditioner.
Why a Dirty Filter is a Problem That You Should Avoid
Letting your air filter get to clogged with debris can lead to some problems for your HVAC systems. Something seemingly inconsequential like this can create issues which include:
Reduced airflow into the system
Reduce heating in the winter (and cooling in the summer)
A system that may short cycle or overheat
Higher energy bills
Increased repair needs
When You Should Change Out Your Air Filter
Too many people underestimate the importance of their system air filter. This is why we want to alert you to the problems that can come from ignoring it for too long.
Regular filter changes are something that you should do your best to stay on top of. Wondering how often you need to check and change your air filter? We suggest checking your air filter once a month to make sure it isn't too dirty. If your filter appears to be coated in debris when you look at it, then we'd say it is a good time to change it out! If you aren't able to do this, then give yourself a reminder to change the air filter every three months at the absolute latest.
For More System Care Needs, Come To Us
Taking care of your heater (and air conditioner) is about more than just filter changes. Changing your filter is just one of the tasks that you can do yourself. That's why we write blogs like these, to let you know! Aside from filter changes though, we advise leaving the majority of maintenance tasks and all repair needs in the hands of a professional.
Feel The Difference! Contact JN Electrical Temperature Control, Inc when you need maintenance, repairs, or any other help with your heater.