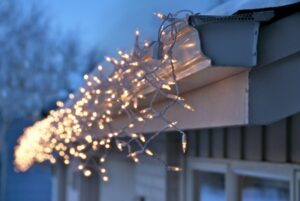 You spent a lot of time getting your holiday lights up and running. The same thing applies to your indoor decorations too. So if some of your decor isn't as bright as it is supposed to be, or turning them on comes at a cost to the rest of the house's electricity, it may mean you have a problem on your hands.
Every home's electrical system is managed with an electrical panel and that panel, and the system it serves, have limits. This is especially true if you have an older home. Your electrical system may be struggling to keep up with your electrical demands for a multitude of reasons. The good news is that an electrician in Hart County, GA is going to be able to help you address this problem.
What's The Issue?
If you are a homeowner in Hart county who is currently wondering why your holiday decorations can't seem to keep up then you may be glad to discover that you aren't alone. This is the time of year when many people start to discover problems in their electrical systems. Check out some of the common electrical woes that people might be encountering below and then reach out to us to get a solution that works!
You have a bad outlet…or two: How old are the outlets in your home? If you aren't sure, that's okay! But if they have been there since you moved in 20 years ago, it may be a good idea to check on them. You might have outlets that need to be replaced. Old outlets can lead to electrical issues and can even harm your electrical appliances.
Your wires need service: We can't tell you how many times we have been to someone's home that is exhibiting electrical trouble only to discover DIY wiring. Yes, there are tutorials online to set up the wiring in a home by yourself. No these aren't a good idea to follow unless you have legitimate electrical training. Wiring seems easy to do but if it is done wrong it can easily cause major trouble for your electrical system, including all of your holiday lights.
An outdated electrical panel: Another cause of your electrical problems may be an outdated electrical panel. A panel that is 20 years old or more is unlikely to be able to keep up with the electricity demands of a modern home. This can result in frequently tripped circuits and even outlets that flat-out don't work. If you have an old panel or, worse, a fuse box, it is time for an upgrade that will help save you a lot of worry and money in the long run.
When it comes to managing your electrical system, it is easy to feel overwhelmed. Thankfully, our team is here for you. We are the experts who know exactly what to do to keep your electrical system running and make sure your holiday lights don't cause a power outage that leaves you in the dark.
Feel The Difference when you work with JN Electrical Temperature Control, Inc. Contact us today to schedule an appointment.