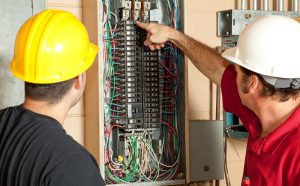 There are some parts of your electrical system that you can upgrade or adjust yourself. For example, changing your lightbulbs in certain lamps around the house–this is an easy one! There are other parts of this system though that should be best left to the professionals such as wiring or upgrading your electrical panel.
Speaking of your electrical panel, how is yours holding up? Do you know how old it is? Is it giving you trouble? If you are starting to have issues with the flow of electricity in your home, you may want to call an electrician in Hart County, GA to see if your electrical panel needs to be upgraded.
Here is how to tell if you need to make that call.
Do You Need a New Electrical Panel? 5 Signs That Say "Yes"
Here are five indicators that it is time to invest in a new electrical panel.
You have flickering lights throughout the house. No ghosts here (it's still a little early for that), just an old electrical panel. What you are noticing are electrical surges due to an old electrical panel or one that simply can't handle your electricity needs.
There are frequent circuit trips for multiple circuits. You turn on the AC and go to turn on the lights in the kitchen and your lights go out. It's a tripped circuit…again. If you are noticing you have to make daily trips to your electrical panel to reset those circuits, it is a sign that the current system is having serious trouble and may need a repair or upgrade.
Your panel took physical damage. Maybe it was a neighbor trimming their trees or the result of a bad storm. Whatever the cause your electrical panel took a mean hit and unfortunately it needs to be replaced. The sooner you get this done the better, and safer, your home will be.
The panel is 20+ years old. Age is an important number when it comes to your home systems, especially your electrical panel. An old electrical panel is likely to have more problems and be unable to handle the level of energy that the modern home needs. If your panel could qualify for a driver's license, it is time to plan for a replacement.
The panel can't provide the energy you need. In short, if your electrical panel simply isn't up to the task of powering your electrical systems and appliances, you need an upgrade. Older panels or even old fuse boxes weren't made to handle the level of electricity needed in a modern home so if you are struggling with your electrical panel you may just need to upgrade yours.
If you need to get your electrical panel replaced, this is something best left to the professionals. Why? Because an electrician at JN Electrical Temperature Control, Inc will have the knowledge and tools necessary to get the job done accurately and safely which is exactly what you need.
Get started today. Contact JN Electrical Temperature Control, Inc to schedule your electrical services. Feel The Difference.