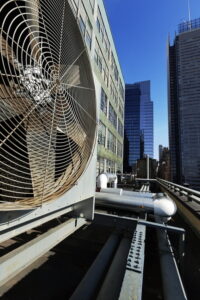 Have you ever walked in a restaurant that was so hot it ruined your appetite? Or perhaps you've had to deal with being in an office space that was uncomfortable and ruined your ability to concentrate the entire day. When you have an uncomfortable commercial space there are consequences beyond the complaints of your clients and employees. If your business becomes too hot and humid if you genuinely interrupt everything you have going on.
It is vital to have a reliable commercial air conditioner on your side. What's more, it is vital to have a resource for the services you need to keep your commercial HVAC in Elbert County, GA in optimal condition. A professional technician on our team can be that resource for you, helping ensure your space is cool all summer long.
Why Go With a Pro?
When it comes to working on HVAC equipment, it is best to opt for professional service. We'd advise this for residential systems and we strongly advise it for commercial AC systems. This is because professional service can be what makes the difference for the quality and longevity of your system. Here are some of the reasons why working with a professional is always the best option:
Training and Certifications
A professional commercial HV AC technician is going to have been trained to handle commercial systems. Unlike an amateur, a professional will have gone through courses and hours of on-the-job training to make sure that they are fully familiar with your commercial system. This is how they earn their certifications. Those certifications are proof that the technician who shows up knows exactly what they're doing.
Experience
When it comes to handling a commercial HVAC system you never want to allow someone to open it up if they have not worked on something like it before. The chances for error are simply too high. A professional technician is also going to have more experience that they can use to your benefit. A trained technician is going to have hours of experience working with a variety of systems which gives them the experience and knowledge they need to properly handle yours.
Legality and Insurance
Residential systems can have their warranty voided if you allow an amateur to work on them. This applies to commercial systems as well but with an added caveat. Especially if you are dealing with the system that is part of a larger commercial building there can actually be legality issues if you allow an amateur to handle the system. Avoid the hassle and go with a professional from the get-go. Not only will this keep things legal but it will also provide you with added backup if anything goes wrong because most professionals come with extra insurance.
We Are Here To Help
Need some help getting your commercial HVAC system back into optimal condition? The team at JN Electrical Temperature Control, Inc is here to help when you need it. Let us take the worry and stress out of keeping your commercial space comfortable.
Feel The Difference when you schedule an appointment with our team today.