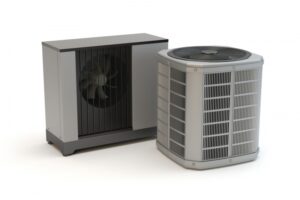 You're about to install a new HVAC system in your home. The old one will be remembered, but it has served its purpose. With so many different options to heat and cool your home, it's difficult to choose. We're about to make it easier for you.
Heat pumps come with numerous benefits that homeowners can enjoy over their old separate systems. We'll let you be the judge, but if you ask us, heat pumps are the next step in home heating and cooling. Let's find out whether or not you'll be scheduling heat pump installation in Madison County sooner rather than later.
1. You Won't Need a Separate Heater and Cooler Anymore
Heat pumps are a little bit of both. You can heat and cool your home with a heat pump, so you won't have to worry about maintaining two separate units. While it can be daunting to leave both tasks up to one device in the event of a breakdown, heat pumps are reliable and endure being used for both purposes. And in the event that your heat pump ever goes down, there's always our 24/7 service for Club Members.
2. Your Energy Bills Are About to Go Down
Heat pumps move heat rather than generate it, which means there's far less energy consumption than traditional HVAC systems. This leads to lower electricity costs, which will lower your bill.
With heat pumps being more energy efficient, it's important to know how much you stand to save. On average, heat pumps can lower your heating and cooling electricity usage by 25% up to 50%. This is dependent upon unique factors (such as unit size, how efficient your home is, etc.) that can't be devised from a blog post, but suffice it to say an energy-efficient home is always better for your bills.
3. There Will Be More Straightforward Maintenance
You're heating and cooling your home out of the same unit instead of two. With one less machine, there's less to maintain, and fewer parts to switch out in the event that something breaks down. In the long run, a heat pump makes maintenance much less of a hassle and doesn't require you to spend maintenance budgets on two separate units.
4. Your Home Will Become More Energy Efficient
Heat pumps use less energy, but they're also part of a larger plan to optimize your home's energy efficiency. When paired with making small home improvements to prevent air leaks and using a smart thermostat to help manage your temperature settings and habits, heat pumps are one major element of how we will heat and cool our energy-efficient homes for the foreseeable future.
You're Ready for That New Heat Pump
The advantages of heat pumps are fantastic, and they're about to be yours. Traditional HVAC units have their use, but to be more energy efficient, save money, and enjoy an undisrupted quality of life at the same time? Who wouldn't want that? Heat pumps are the future of heating and cooling your home. Get started today.
Contact us today to schedule your new heat pump installation and change the way that you heat and cool your home.